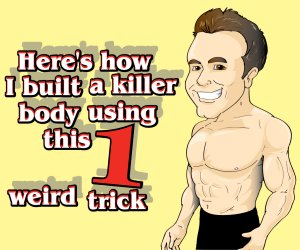 John Barban is the creator of products "Adonis Index" (for the boys), "Venus Index" (for the girls) and "Anything Goes Diet" (for anyone who wants to shed fat). John has a degree in human biology, and a Masters' degree in Human Biology and nutrition.
John Barban has taken a number of personal training certifications, as well as certifications in kinesiology, although his views call into question the value of these certifications because they are theory based, and not real world. John is a certified strength and conditioning specialist, and has trained with various professional athletes.
John Barban has worked in the dietary and sports supplement industry, where he has researched and developed sports and weight loss supplement for the past eight years. John still does consulting work for these companies from time to time for formula and product development.
Some of the brands that he has worked with are:
- MuscleTech
- NxLabs
- Slimquick
- ADS
- BlueStar Neutraceuticals
- Empowered Nutrition Products
John Barban spent three years as strength and conditioning coach, during his time of the University of Guelph. John trained with a world class power lifting team, where he learned a lot about building muscle, and got really strong. John still keeps in contact with this team and regularly discusses training experiences and theories with them.
John Barban wrote the Adonis Index which is a workout system designed around the ideal male proportions. The books takes you through all the research that John Barban and Brad Pilon that supports their findings. John will uncover the strange cultures that exist in the diet and fitness industry, the lies that are told, and the truths that should replace them.
The Adonis Index and Venus Index workout systems are fitness systems formulated to achieve the ideal body shape. The ideal body shape has been taken from extensive research, and is based around the proportions that are found in classic Greek and Roman sculptors like Leonardo da Vinci. The use of these proportions has not been used in recent times; however these fitness systems strive to achieve these ideal measurements, to get the ideal shape to attract the opposite sex.
A large proportion of people who exercise do so in the hopes of looking good for the opposite sex, and if you are a person who falls into this category, you absolutely have to have this product. The program guides you on what to eat, what exercises to do to achieve the Adonis or Venus body that you desire.
The idea behind the program is to make sweeping changes to your lifestyle, to give you better health, the body you want, and increase your self-confidence. Armed with this confidence of being in better shape, you will achieve more in your life – get the job you want, money, and relationship, whatever it is that you look for in life. It sounds incredible, but this effect is a well-known effect, you would probably call the person 'popular', but there is a reason for this popularity. It starts with looking 'right' – our eyes subconsciously filter out things that do not appeal to us, and therefore do not make the cut. If you want to make the cut, purchase this product – John gives a money back guarantee, so you really do not have anything to lose.